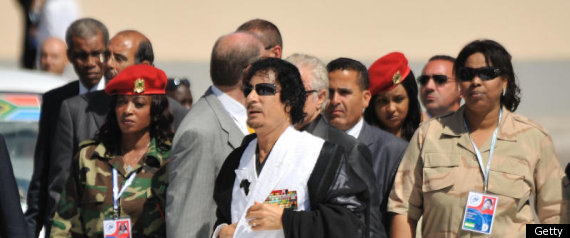 Five women who formed part of Moamer Gaddafi's select unit of female bodyguards are claiming they were raped and abused by the now hunted dictator, The Sunday Times of Malta reported.

The women have told Benghazi-based psychologist Seham Sergewa they were sexually abused by Gaddafi and his sons before being discarded once the men had become "bored" with them.

The claims form part of a dossier being collated by Sergewa for the International Criminal Court and possible trial that Gaddafi and members of his inner circle may face in Libya if and when they are captured alive.

One of the women told Sergewa how she had been blackmailed into joining the bodyguard brigade, once believed to number as many as 400 women, after the regime fabricated a story that her brother was carrying drugs on his way back to Libya from a holiday in Malta.

"She was told 'you either become a bodyguard or your brother will spend the rest of his life in prison'," Sergewa told The Sunday Times of Malta in an interview in Benghazi.

"She had been expelled from university and was told to seek Gaddafi's intervention to be reinstated. She was told she had to undergo a medical test that included an HIV test that was administered by an East European nurse."

Eventually she was taken to meet Gaddafi at his Bab Aziziya compound in Tripoli, and led to his private quarters where she found him in his pyjamas.

"She could not understand because she saw him as a father figure, leader of the nation, that sort of thing. She refused his advances and he raped her," Sergewa said.

A pattern emerged in the stories. The women would be first raped by the dictator and then passed on to one of his sons and eventually to high-ranking officials for more abuse before eventually being let go, the psychologist said.

The women stepped forward after Sergewa started investigating claims of systematic rape, allegedly committed by loyalist troops during the conflict.Author: Herman Grech.
---
7 Facts About Gadaffi's Beautiful Virgin Killing Machines
1. They are all virgins and take a vow of chastity when becoming official bodyguards.
2. Gaddafi believes it is empowering for women to be his bodyguards. He says, "Women should be trained for combat, so that they do not become easy prey for their enemies."
3. They are all trained killers and hand-picked by Gaddafi himself.
4. The girls wear lipstick, jewellery, polished nails, and even high heels.
5. All of his girls are said to swear an oath that they will give their lives for him and it is claimed they never leave his side, night or day.
6. In 1998 one of them was killed and seven others wounded when Islamic fundamentalists in Libya ambushed the Colonel's motorcade. The dead bodyguard, rumoured to be his favourite, threw herself across Gaddafi's body to stop the bullets.
7. Gaddafi makes the final selection and, despite his insistence that his guards are chaste, rumours abound that he demands their sexual favours.