No Turkish forces have entered north Iraq, border guards and Kurdish rebels say, a day after Turkish security sources said troops, tanks and military vehicles had crossed the frontier.
There has been no Turkish incursion by soldiers or Turkish forces onto Iraqi soil, said Colonel Hussein Tamer, head of the border guards for Dohuk province in north Iraq along the border with Turkey.
"Turkish forces have not entered Kurdistan's soil," added Ahmed Denis, spokesman for the Kurdistan Workers' Party (PKK) rebel group, which maintains bases in Iraq's northern autonomous Kurdish region and is the target of Turkish forces.
Turkish security sources said on Monday that some 20 tanks and 30 military trucks had entered Iraqi soil from Siyahkaya village, and Turkish warplanes bombed the Haftanin region.
They added that Turkish troops were sent by helicopter to Zab, and were aiming to enter Sinaht, which is close to Haftanin.
The Turkish military launched air and land operations against the PKK after the separatist group's guerrillas killed 24 soldiers and wounded 18 along the Iraqi border on Wednesday, the army's biggest losses since 1993.
No Turks in Iraq? Then, what is this?!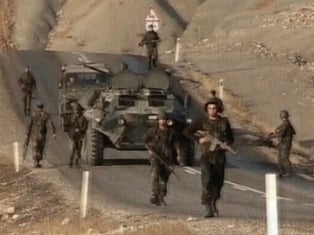 Who is the M/F on the right?